5-7 October, 2022
Apropos 18 conference

The APROPOS 18 conference (the third under the new name) continues the series of symposia held in Vilnius since 1971 with the initial title "Plasma and instabilities in semiconductors", later "Ultrafast Phenomena in Semiconductors" (UFPS).
The conference aims to reveal and share new ideas in technology, research and applications of advanced optoelectronic materials, to discover modern trends in optoelectronics research and to discuss processes and fascinating phenomena arising when optics meets electronics. Special emphasis will be attributed to applications of ultrafast methods for advanced materials.
2-4 October
Masterclass for scientific writing and presentation
Direct training for thirty (up to 30 seats) early stage researchers seeking PhD degree in the fields related to terahertz science and technology.
The European Marie-Curie training network TERAOPTICS organize this masterclass for PhD students to improve their skills on scientific writing, publishing and presenting.
TERAOPTICS – Terahertz Photonics for Communications, Space, Security, Radio-Astronomy, and Material Science
Invited speakers
Egidijus Auksorius, FTMC Vilnius, Lithuania
Jo De Boeck, IMEC, Leuven, Belgium
Yi-Jen Chiu, National Sun Yat-sen University, Taiwan
Georgy Fedorov, Institute of Photonics, University of Eastern Finland, Finland
Vytautas Getautis, KTU Kaunas, Lithuania
Vidmantas Gulbinas, FTMC Vilnius, Lithuania
Heinz-Wilhelm Hübers, German Aerospace Center (DLR), Germany
Fedor Jelezko, Ulm University, Germany
Gediminas Juzeliūnas, Vilnius University, Lithuania
Andrey Kadashchuk, Kiev – Bayreuth, Ukraine-Germany
Wojciech Knap, CENTERA, Poland
Karl Leo, TU Dresden, Germany
Robert Lo, ITRI, Taiwan
Daniel Mittleman, Brown University, USA
Tadao Nagatsuma, Osaka University, Japan
Chiko Otani, RIKEN Center for Advanced Photonics, Japan
Taiichi Otsuji, Tohoku University, Japan
Rimvydas Petrauskas, Vilnius University, Lithuania – historical lecture at "Lublin Readings"
Hartmut G. Roskos, Goethe-University, Frankfurt/M, Germany
Tomas Serevičius, Vilnius University, Lithuania
Janis Spigulis, University of Latvia
Alessandro Surrente, Wroclaw University of Science and Technology, Poland
Stephan Winnerl, Helmholtz-Zentrum Dresden-Rossendorf, Germany
Ernestas Zdaniauskis, Teltonika IoT, Vilnius, Lithuania
Valery Zwiller, KTH, Sweden
Book of abstracts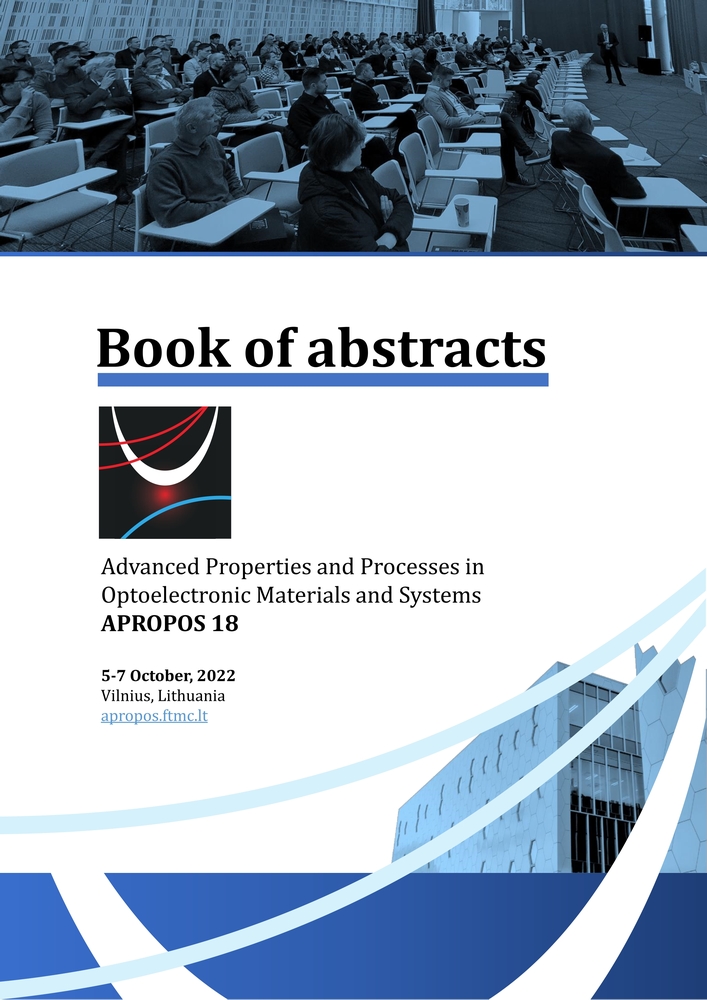 Advanced Properties and Processes in Optoelectronic Materials and Systems (APROPOS 18) : book of abstracts, 5-7 October, 2022, Vilnius
Author: Center for Physical Sciences and Technology
ISBN 978-609-96355-0-7
Photos
Young researcher award
Science Award by Teltonika IoT: Master student Lukas Naimovičius (Vilnius University)
Technology Award by Light Conversion: Bachelor student Silvija Keraitytė (Vilnius University and FTMC)
Innovation Award by Science and Technology Park of Institute of Physics: PhD student Rusnė Ivaškevičiūtė-Povilauskienė (FTMC)
Presentation Award by Inospectra: shared by Bachelor student Monika Jokubauskaitė (Vilnius University and FTMC) and doctor Martynas Skapas (FTMC)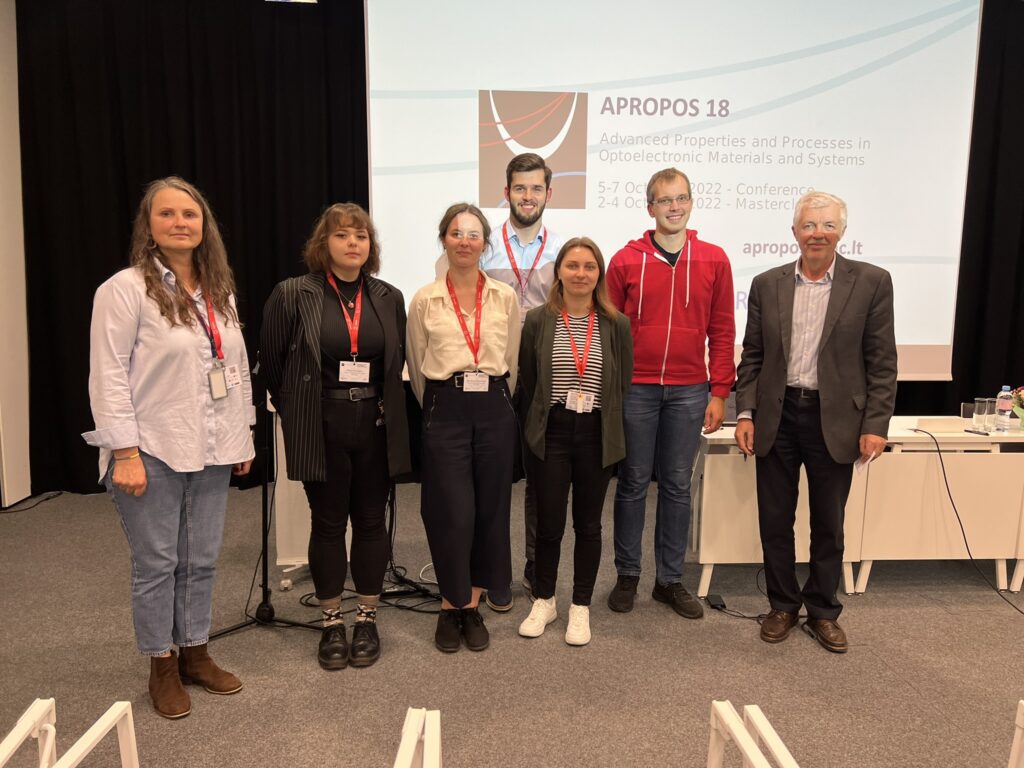 In the press