Book of abstracts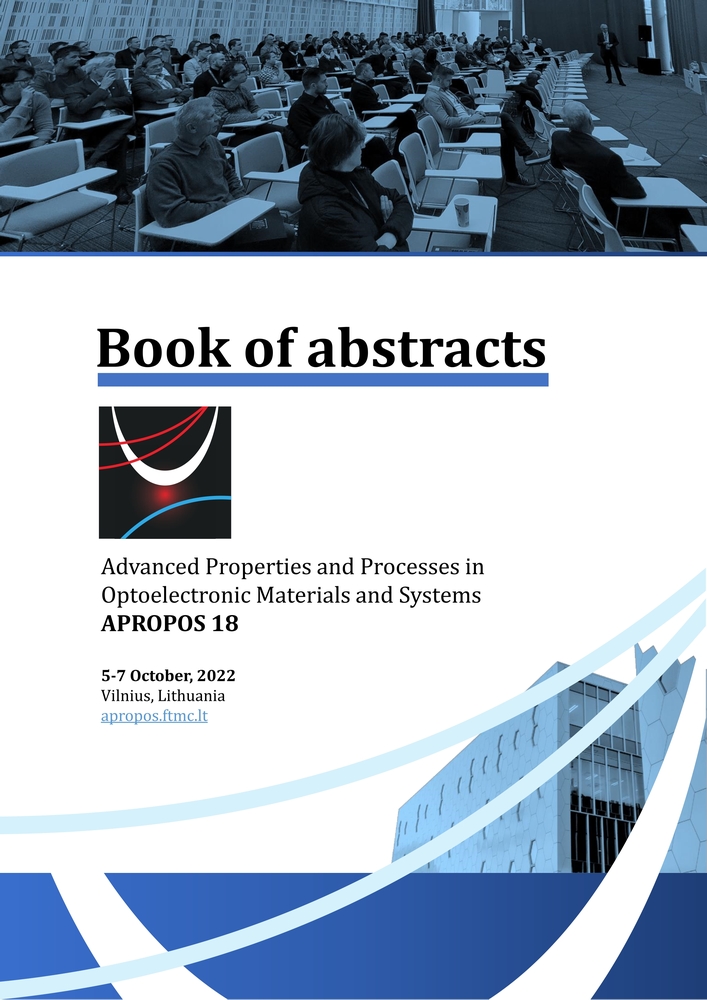 Advanced Properties and Processes in Optoelectronic Materials and Systems (APROPOS 18) : book of abstracts, 5-7 October, 2022, Vilnius
Author: Center for Physical Sciences and Technology
ISBN 978-609-96355-0-7
DAY 1, October 5
Center for Physical Sciences and Technology (FTMC)
Saulėtekio av. 3, Vilnius, Lithuania
Conference hall A101
8:30-9:00 Registration
CONFERENCE OPENING
Mayor of Vilnius Remigijus Šimašius
Vice-Minister of Education, Science and Sport Ramūnas Skaudžius
9:00 Gintaras Valušis (FTMC, Lithuania) – Chair of APROPOS 18 Conference
Section 1: Semiconductor nanostructures and advanced photonics systems
Chair: Vidmantas Gulbinas
9:10 Karl Leo (TU Dresden, Germany) – Organic semiconductors for novel optoelectronic devices – Plenary
9:40 Vytautas Getautis (KTU, Lithuania) – Advanced Organic Molecules for New Generation Solar Cells: from Idea to Commercialization – Invited
10:10-10:30 Coffee break
Open Event: 10.30-12.30 INSPIRING RESEARCH
European ITN project TERAOPTICS
10:30-12:00 Special session "SEMICONDUCTOR CHIPS TRENDS AND ISSUES"
Chair: Linas Minkevičius
Robert Lo, Deputy General Director of EOSL/ITRI (Hsinchu, Taiwan) – The Next Generation of Semiconductor: Trends in chip technology and 3D heterogeneous integration – Invited
Jo De Boeck, IMEC (Belgium) – Invited
Ernestas Zdaniauskis, Teltonika (Vilnius, Lithuania) – TELTONIKA towards new industries: from EMS to semiconductor chips – Invited
12:00-13:00 Lunch break
Section 2: Materials for optoelectronics
Chair: Hartmut Roskos
13:00 Chiko Otani (RIKEN Center for Advanced Photonics, Japan) – Development of 300 GHz walk-through body scanner for security gate inspections – Invited
13:30 Yi-Jen Chiu (National Sun Yat-sen University, Taiwan) – Above 100Gb/s by Wafer-bonding Hybrid Si Photonics integration – Invited
14:00 Alessandro Surrente (Wrocław University of Science and Technology, Poland) – Magnetically brightened dark excitons in two-dimensional metal halide perovskites – Invited
14:30-15:00 Contributed talks
C. P. V. Nguyen – First comparison of rhodium- and iron-doped InGaAs photoconductive THz emitters for continuous-wave terahertz emission
A. Apostolakis – Broadband amplification of terahertz electromagnetic radiation from semiconductor superlattices under coherent phonon driving
15:00-15:15 Coffee break
Section 3: Ultrafast and THz phenomena
Chair: Daniel Mittleman
15:15 Taiichi Otsuji (Tohoku University, Japan) – Invited
15:45 Wojciech Knap (Warsaw, Unipress, Poland) – Towards on-chip plasmonics amplifiers of THz radiation – ERC – advanced project – Invited
Section 4: Quantum optics
Chair: Heinz-Wilhelm Hübers
16:15 Georgy Fedorov (Institute of Photonics, University of Eastern Finland, Finland) – Graphene based devices for terahertz radiation detection and beyond – Invited
16:45 Fedor Jelezko (Ulm University, Germany) – Quantum sensing enabled by spin qubits in diamond – Invited
17:15 Gediminas Juzeliūnas (Vilnius University, Lithuania) – Topology for Electrons in Solids, Photons and Ultracold atoms – Invited
17:45 Stephan Winnerl (Institute of Ion Beam Physics and Materials Research, Helmholtz-Zentrum Dresden-Rossendorf) – Nonequelibrium carrier dynamics in Landau quantized graphene and mercury cadmium telluride – Invited
18:15-18:30 Coffee break
18:15-19:00 POSTER SESSION / Networking
DAY 2, October 6
VU Library Scholarly Communication and Information centre (MKIC)
Saulėtekio av. 5, 10222 Vilnius
Conference hall A103
8:30-9:00 Registration
Section 5: SPECIAL SESSION – United Lithuanian-Polish workshop "LUBLIN READINGS" dedicated to express solidarity with Ukrainian scientists
Chair: Gintaras Valušis
9:00 Ambassador Extraordinary and Plenipotentiary of the Republic of Poland in Lithuania
9:10 Rimvydas Petrauskas (Vilnius University, Lithuania) – historical lecture at "Lublin Readings" – Invited
Tribute to those who died for Ukraine's freedom.
9:40 Andrey Kadashchuk (Kiev – Bayreuth (Ukraine-Germany)) – Monitoring the charge-carrier occupied density-of-states in disordered organic semiconductors under non-equilibrium conditions – Invited
10:10-10:30 Coffee break
Chair: Andrey Kadashchuk and Agnieszka Siemion
10:30 Egidijus Auksorius (FTMC, Lithuania) – Imaging of the human retina and cornea in vivo with high-resolution ultrafast optical coherence tomography – Invited
11:00-12:30 Contributed talks
M. Dub – Low frequency noise as a quality control of novel AlGaN/GaN devices
V. Stankevič – Measurement of short pulsed magnetic fields
D. Pashnev – Optimization of 2D plasmons excitation in grating-gated AlGaN/GaN high electron mobility transistor structures
M. Maciaszek – ab initio modeling of the photoionization of NV centers in diamond OR Thermodynamical modeling of carbon related defects in hexagonal boron nitride
V. Čižas – Dissipative parametric generation in a biased superlattice: the case of small signal gain
P. Sai – Interplay of THz plasmon modes in AlGaN/GaN grating-gate structures
12:30-13:30 Lunch break
Section 6: THz technologies
Chair: Wojciech Knap
13:30 Heinz-Wilhelm Hübers (German Aerospace Center, Berlin, Germany) – Terahertz technology for remote sensing of the Earth's atmosphere – Invited
14:00 Hartmut G. Roskos (Goethe-university, Frankfurt/M, Germany) – High-harmonic generation in p-doped Si pumped with intense terahertz pulses – Invited
14:30-15:45 Contributed talks
I. Grigelionis – Excitation of magnetic polaritons in n-GaAs/GaAs/metal structure in the terahertz range
K. Kumar – Towards electronically-controlled reconfigurable terahertz beam steering based on phase-change metasurfaces
R. Balagula – Efficient electrooptic THz beam modulator based on drifting space-charge domains in gallium nitride structures
D. But – Optimization of self-mixing effect in integrated BiCMOS sources for reflection-type imaging applications
S.R. Ayyagari – Development of Hybrid phase profile silicon multi-phase zone plate lenses for THz frequencies
15:45-16:00 Coffee break
Chair: Chiko Otani
16:00 Daniel Mittleman (Brown University, USA) – Local and non-local terahertz measurements in the near field – Invited
16:30 Tadao Nagatsuma (Osaka University, Japan) – Wireless telecommunications towards Beyond 5G/6G – Invited
17:00-18:30 Contributed talks
I.Belio-Apaolaza – Optical-THz-Optical bridge at 5Gbps with a photonically-driven Schottky mixer at the receiver
A. Bandyopadhyay – 100 Gbit/s THz Data Transmission and Beyond using Multicore Fiber Combined with UTC Photodiode Array
M. Tamošiūnaitė-Survilienė – Outdoor THz communications: channel characteristics and statistical uncertainties
S. Iwamatsu – Ultra-Broadband THz Transition from CPW to Si Rod Waveguide for Future Tbps On-Chip Communications
K. Ikamas – Data Transmission with Compact All-Electronic THz Wireless System
K. Spanidou – Optical heterodyne-based module on silicon platform for sub-THz wireless data transmission
19:30 DINNER GALA
Energy and Technology Museum (Rinktinės str. 2, 09312 Vilnius)
DAY 3, October 7
VU Library Scholarly Communication and Information centre (MKIC)
Saulėtekio av. 5, 10222 Vilnius
Conference hall A103
8:30-9:00 Registration
Section 7: Organic materials for optoelectronics
Chair: lrmantas Kašalynas
9:00 Vidmantas Gulbinas (FTMC, Lithuania) – Invited
9:30 Tomas Serevičius (Vilnius University, Lithuania) – Invited
10:00 – 10:15 Contributed talks
A. Klein Schuster – Enhanced Mie Scattering on Spoof Plasmonic Surfaces of Terahertz Biosensors
10:15-10:30 Coffee break
Section 8: Nano and Biophotonics
Chair: Georgy Fedorov
10:30 Valery Zwiller (KTH, Sweden) – Invited
11:00 Janis Spigulis (University of Latvia) – Skin-remitted light as a tool for health monitoring – Invited
11:30 – 12:30 Contributed talks
L. Naimovičius – Novel diketopyrrolopyrrole-based emitters for NIR-to-visible photon upconversion
J. Jovaišaitė – Diboraanthracene and polymer-based systems for room temperature organic afterglow
V. Astachov – Controllable growth of two-dimensional palladium sulfide films
S. Nargelas – Photoluminescence and transient optical absorption in heavily doped lead tungstate
12:30-13:30 Lunch break
Section 9: Semiconductor nanostructures and advanced photonics systems
Chair: Renata Butkutė
13:30-15:15 Contributed talks
R. Ivaškevičiūtė-Povilauskienė – Terahertz imaging using diffractive Airy lens
S. Keraitytė – Growth Optimization and Characterization of MQWs based on InGaAs and GaAsBi for VECSELs and NIR sources
E. Dudutienė – Effect of substrate temperatures on luminescent properties of GaAsBi/GaAs multi-quantum-wells
M. Karaliūnas – Experimental Investigation of GaAs(Bi)/AlGaAs Grown Parabolic Quantum Wells in Terahertz Frequency Range
S. Stanionytė – Structural analysis of thin bismuth layers grown on silicon (111) substrates
T. Troha – Ultrafast long-distance electron-hole plasma expansion in GaAs mediated by stimulated emission of photons
15:15-15:30 Coffee break
Section 10:
Chair: Renata Butkutė and Gintaras Valušis
15:30-16:00 SPECIAL SESSION – 3 min award presenters session
16:00 CLOSING REMARKS
16:10 Excursion to the laboratories and Clean Room Facilities // Meeting of Scientific conference board
POSTER SESSION
Center for Physical Sciences and Technology (FTMC)
Saulėtekio av. 3, Vilnius, Lithuania
Main hall near A101
5 October, 2022, 18:15-19:00
Pre-final version (under revision).
Section 1: Semiconductor nanostructures and advanced photonics systems
S1-P1 – Arnas Pukinskas – Bi-Quantum Dots Formation in-situ in MBE Reactor
S1-P2 – Justinas Jorudas – Comparison of InAlGaN and AlGaN HEMT structures
S1-P3 – Monika Jokubauskaitė – Influence of the design of parabolic AlGaAs barriers on the optical properties of GaAsBi quantum wells
S1-P4 – Algimantas Lukša – Intentional modification of nanocrystalline graphene coatings by thermal annealing
S1-P5 – Martynas Skapas – Transmission electron microscopy of Hybrid graphene-lanthanum perovskite structures
S1-P6 – Ezgi Abacioglu – Structural, optical, and mechanical properties of silicon nitride films deposited by inductively coupled plasma enhanced chemical vapor deposition
S1-P7 – Linas Ardaravičius – High-field electron transport measurements in (Be,Zn)MgO/ZnO heterostructures
Section 2: Materials for optoelectronics. Quantum optics
S2-P1 – Darius Urbonis – Double Fano resonance in broken symmetry split-ring resonator array metasurface
S2-P2 – Justina Žemgulytė – Compact rectennas for energy harvesting using SSAIL technique
S2-P3 – Jerzy Lusakowski – Optically detected cyclotron resonance in CdTe-based quantum wells
S2-P4 – Karolis Redeckas – Quantum well infrared photodetector operating at room temperature
S2-P5 – Žygimantas Vosylius – Radiometric imaging and pulsed X-ray-based studies of light collection from scintillating crystals
S2-P6 – Jose Javier Fernandez-Pacheto Cuesta – Study of thermo-refractive noise in solid-state dual frequency micro-lasers
S2-P7 – Vytautas Janonis – Optimization of Coherent Thermal Emission from Circular Shape n-GaN Surface Relief Gratings
Section 3: Ultrafast and THz phenomena. THz technologies
S3-P1 – Dominykas Sanda – Application of terahertz time-domain spectroscopy in the study of air components and vapors of organic compounds
S3-P2 – Alexander Chernyadiev – Investigation of sensitivity limits of a near-field THz sensor based on a Si CMOS technology
S3-P3 – Himanshu Gohil – Development of an integrated Schottky based heterodyne THz receiver at 300 GHz using power combining approach.
S3-P4 – Javier Martinez Gil – 270-320 GHz Low Barrier Schottky Diode Mixer
S3-P5 – Mateusz Kaluza – 3D printed THz MIMO diffractive structures
S3-P6 – Mateusz Surma – THz achromatic lens from 3D printing materials
S3-P7 – Ashish Kumar – Cost-effective high pass filter for dielectric rod waveguides
S3-P8 – Abdu Subahahan Mohammed – Low Loss Topological Silicon Valley Photonic Crystal waveguides in Terahertz regime
S3-P9 – Yilmaz Ucar – Cascaded wideband RoF links with LWA for enabling mobile 5G base stations
S3-P10 – Jonas Tebart – Exploiting 3D metal printing for additive manufacturing of waveguide and antenna structures for THz-applications
S3-P11 – Fasil Bashir Wani – Metamaterial based Antenna integrated UTC-PD array for THz communications in 270-330 GHz band
Section 4: Organic materials for optoelectronics. Nano and Biophotonics
S4-P1 – Muhammad Mujahid – Triple cation perovskite/silicon tandem solar cell
S4-P2 – Oleg Kiprijanovic – Strong inverse piezoelectric response in graphene – dielectric structures induced by nanosecond electric pulse
S4-P3 – Ihor Zharchenko – Low and high photon energy induced photoresponse in single junction solar cells
S4-P4 – Yaraslau Padrez – Collagen orientation index determination in wide-field SHG microscopic images of lung tissue
S4-P5 – Šarūnas Mickus – Investigation of surface modification of polycarbonate by picosecond Nd:YVO4 laser pulses for selective chemical copper deposition
S4-P6 – Karolis Adomavičius – In vivo imaging of human retina with Fourier-Domain Full-Field Optical Coherence Tomography and a Multimode Fiber for Coherence Noise Reduction
S4-P7 – Faustino Wahaia – Characterization of Metal-Orga nic6Frameworks (MOFs) Using THz Techiniques